CV of Violetta Anninos
Diplomate and Board Certified Quantum Academies, Beverly Hills, California, U.S.A.
Mentoring Worldwide
Molecular Biologist with HONORS, University of Delaware, U.S.A.
Holds two doctorates:
1.Holistic Nutrition, Highest Honors, USA
2.  MEDICAL BOARD CERTIFIED BIOFEEDBACK DOCTORATE  IMUNE
(THE INTERNATIONAL   MEDICAL UNIVERSITY OF NATURE MEDICINE)
Post Graduate Studies in Neuro-Anatomy, in Neuroelectro-Physiology and Neurology, Victor Babes University of Medicine and Pharmacy
Awarded for her research in Molecular Biology from Dupont, Delaware, USA (Dupont Medical Research)
Candidate  Ph.D.  in Quantum Integrative Medicine,    U.S.A  ( Accredited Worldwide)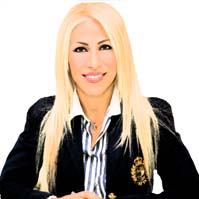 Dr. Violetta Anninou, Ph.D, Quantum Master is a highly specialized Computerized Quantum Integrative Medicine Leader and Expert with 2 Doctorate Diplomas. She is a candidate now for a third Doctorate.
She studied Molecular Biology at the University of Delaware, USA and graduated with Honors. She was awarded with the honorary titles of Mortar Board Honor Society & Dean's List. A  DOCTORATE DIPLOMA in HOLISTIC NUTRITION WITH HIGHEST HONORS.
MEDICAL BOARD-CERTIFIED BIOFEEDBACK DOCTORATE  IMUNE, THE INTERNATIONAL MEDICAL UNIVERSITY OF NATURE  MEDICINE.
Post Graduate Studies Degree in Neuro-Anatomy, Neuroelectro-Physiology and Quantum Biofeedback, Dept of Neuro-Anatomy, Victor Babes University of Medicine and Pharmacy, Timisoara, Romania
Currently, a candidate for a Doctorate in Integrative Medicine IMD with IQUIM(INTERNATIONAL QUANTUM UNIVERSITY OF INTEGRATIVE MEDICINE, HAWAII, USA) by the Board of Orthomolecular and Integrative Medicine
She is the President of V.A.P. COLLEGE-Quantum Biofeedback & Research Center- The First Quantum Integrative Computerized Medicine College in GREECE that offers continuing education in Quantum Biofeedback.
Worked at DUPONT, MEDICAL PRODUCTS RESEARCH DIVISION-Wilmington, DELAWARE, USA. One of the leader companies in Medical Research worldwide, and she was awarded an Accomplishment Award for DNA Sequencing.
Internationally recognized as a worldwide Quantum Master teaching at International Congresses for QUANTUM  MEDICINE and QUANTUM  BIOFEEDBACK. She has participated in more than over 10 International Congresses as a speaker and instructor on the topic of QUANTUM BIOFEEDBACK and QUANTUM COMPUTERIZED INTEGRATIVE MEDICINE, while in parallel she has been on numerous TV, radio shows, magazines and newspapers.
For over the past 20 years, Dr. Violetta Anninou, Ph.D. practices as a MOLECULAR BIOLOGIST, HOLISTIC NUTRITIONIST AND QUANTUM BIOFEEDBACK SPECIALIST with outstanding success. She teaches and educates her clients how to achieve Peak Performance and Dynamic Health through her QUANTUM BIOFEEDBACK COMPUTERIZED INTEGRATIVE MEDICAL PROGRAM emphasizing the entire human existence – body, soul and spirit wellness. Her Motto is Wealth is your Health!!!
She is the Author of the Books:
EDUCTOR- QUANTUM BIOFEEDBACK SYSTEM- E-BOOK (English and Greek)
Quantum Nutrition WITH SCIO/EDUCTOR with  SCIO INTERNATIONAL(English)
The Love Diet Book  (English and Greek)
Doctor, Tell Me: The Andrologist-Urologist- All you need to know About Mens Health with Eva Delidaki (Greek)
Sports Performance: She participated in the Montreal Marathon and was awarded with a Bronze Medal
Studies in Music:  5 years of piano studies.
Languages: English, Greek and French.