How can this be? For eons, Cosmetic science has been promoting Beauty Enhancement with natural remedies and substances. More recently, synthetic compounds have been added in the effort to maximize beauty-enhancing effects. As well as these cosmetics have worked for many, they still are working with the body from a very limited, materialist perspective. Modern science has now fully embraced Einstein's observation that matter and energy are made of the same 'stuff' and are interchangeable. Therefore, nothing is purely material, including physical bodies.
The science of Homeopathy has enjoyed hundreds of years of successful validation that the body responds well to purely energetic information delivered via Nature's finest communication media: water! It stands to reason that water-based cosmetic formulations can also be used to carry valuable energetic anti-aging and beautifying effects to the body.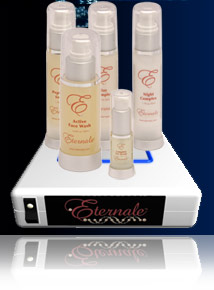 If you have seen Dr. Emoto's photos, you can see how water molecules carry and transfer energy and information. Water can be easily 'programmed' with an electromagnetic signal delivered by field-generating technology. Eternale™ has breakthrough organic products with specific frequencies held in their water base to amplify the anti-aging and beauty enhancing qualities of the formulas. In addition, Eternale has their original organic products that can be personally infused with frequencies essences' from technologies such as the Cybernetic loop devices and of course our Eternale™ Beauty Device.
Experience for yourself the vast difference that truly multi-dimensional Skin Care products can produce. Bring out your true Beauty which radiates from the Real You within!'