CV of Violetta Anninos
Education & Training
Violeta Anninou was born in Greece and grew up in America. He worked in DuPont, USA, one of the world's largest pharmaceutical and medical research companies, and since 1990 he has a holistic center in Greece. She studied Molecular Biology (B.Sc.) at Delaware University, USA, where she graduated with honors. She was awarded the honorary titles Mortar Board Honor Society & Dean's List. She holds a doctorate (Ph.D.) in Quantum Biofeedback, IMUNE (International Medical University of Nature Medicine), a master and a doctorate (M.Sc., Ph.D.) in Holistic Nutrition (with highest honors), Birmingham Alabama, USA and she is postgraduate (M.Sc.) in Neuro-Anatomy, Neuroelectro-Physiology and Neurology from Victor Babes University of Medicine and Pharmacy. She also is a Ph.D. candidate in Holistic Quantum Medicine from IQUIM (International Quantum University of Integrative Medicine), Hawaii, USA. She is an Internationally Licensed Specialist Trainer at the IMUNE (International Medical University of Nature Medicine) and an Internationally Licensed Quantum Biofeedback Therapist, IMUNE (International Medical University of Nature Medicine). Certified Biofeedback Specialist and Diploma from BANHS, Los Angeles, California, USA and Germany, Europe NTCB EU (Natural Therapies Certification Board Europe), and she is a member of the IRTCOE (International Registrar of Therapists, Circle of Excellence). Finally, she is a diplomate at Quantum Academy, Beverly Hills, California, USA.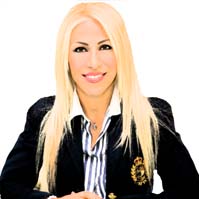 Accomplishments
She was awarded an accomplishment award for her research on DNA sequencing from Du Pont, USA.
She belongs to Who is Who in Greece – Encyclopedia of the biographies of prominent Greeks – since 2007: https://www.whoiswhogreece.com/anninou-bioleta/
She has participated in over 10 World Conferences as a Quantum Master in Quantum Biofeedback and has appeared on numerous TV and radio shows, magazines, and newspapers.
She is the author of the books:
EDUCTOR – QUANTUM BIOFEEDBACK SYSTEM – E-BOOK

Quantum Nutrition with SCIO / EDUCTOR with SCIO INTERNATIONAL

The Love Diet – The Body Wisdom System Guide (English and Greek)
She has taken part in the Montreal Marathon, where she was awarded the bronze medal.
Mission
The mission of Dr. Violetta Anninou, Ph.D., is to help those who want to reduce the causes of illness, regain the vitality of their body, adopt functional ways of managing stress and cope with their symptoms by natural means. She treats each individual in their totality, taking into account their physical, mental, emotional, spiritual level and their environment in which they live. With her many years of education, experience, and expertise in Quantum Biofeedback, her clients have been able to have more functionality in daily tasks, less stress, less pain, less inflammation, better recovery from injuries, and dynamic health.
She also teaches professionals how to use the Quantum Biofeedback device- the EDUCTOR- by providing a personalized training program that focuses on the needs of each individual. She recognizes that the value is in the education for excellent, accurate, and in-depth training about its use, not just the acquisition of the best device in Computerized Quantum Integrative Medicine today. Her work and extraordinary revolutionary approach are to channel and communicate the highest healing information, knowledge, and application into educational form with ease, clarity, and grace. She assists practitioners in ways to apply their personal ingenuity with their device usage at its ultimate best for Integrative Quantum Healing, helping them explore the frontiers of mind-body quantum medicine.
Dr. Violetta Anninou's experience and studies have brought together the current research of Western Medicine, neuroscience, neuroanatomy and neurophysiology (neuropeptides and neurotransmitters), and Quantum Physics with the basis of Quantum Healing by Dr. Deepak Chopra, M.D.
Methodology
With the successful Computerized Integrative Quantum Medicine Program (since 2005) Dr. Violetta Anninou Ph.D. provides knowledge for regeneration and rejuvenation at the cellular and energetic quantic level. Throughout the years, she has appeared on numerous television and radio shows, magazines and newspapers to bridge the gap between conventional medicine and quantum integrative medicine. By taking photos through the Bi-Face program, it is possible to compare people before and after each session. The wide range of clients, from athletes, celebrities, business leaders and individuals of all walks of life, has shown that many seek her expertise to understand the cause of their diagnosis, body wisdom and their biochemical identity, understanding that their body is an "orchestra" of over 300 trillion cells and knowledge about it cannot be confined to a diagnosis.
Below is the methodology of Dr. Violetta Anninou, Ph.D. – The 10 Pillars of Dynamic Health:
Quantum Evaluation – Quantum Evaluation – Detection of the cause of the symptom & stress stimulation

Quantum Evaluation – Quantum Evaluation – Detection of the cause of the symptom & stress stimulation

Quantum Homotoxicology – Toxin Detection & Detoxification

Quantum Nutrition – Assimilation & Good Digestion

Quantum Immunology – Strengthening the Immune System

Quantum Hematology – Blood Analysis through Dark Field Analysis

Quantum Hormonology – Hormone Balancing

Quantum Homeopathy

Quantum Taoist Medicine – Acupuncture Points & Meridian Channels

Quantum Entropy – Reduction of Oxidation & Free Radicals

Quantum Anti-Aging – Regeneration & Dynamic Health
Also, with her knowledge of Molecular Biology and Holistic Nutrition, she has created 8 Steps for Quantum Nutrition for those who want to reduce their weight, improve their body composition and their diet. The 8 Steps of Quantum Nutrition:
B.M.R. – Calories

Detoxification – pH Nutrition

Food Combinations

Glycemic Load

Nutrition and Blood Type

Candida Diet

Anticancer Nutrition

Food Hyper Reactivity